BIKE RIDE TO RAISE FUNDS FOR ANIMAL SHELTER
HILLSBORO, Texas (March 25, 2015) — Hill County Paw Pals today announced a new partner for its 8th Annual Waggin' Trail Bike Ride, set for Saturday, May 2, 2015. The Hillsboro Chamber of Commerce joins forces with longtime event partner, Hillsboro Police Department, in supporting the bike ride fundraiser to benefit the county animal shelter.
To attract both avid cyclists and casual riders from all over the state, this year's Waggin' Trail Bike Ride offers five routes with varying lengths of 94, 65, 41, 27, and 10 miles. Race tracks will offer participants a scenic tour of gorgeous Central Texas landscapes, spanning across dozens of Hill County paved farm-to-market roads. Competitors will view countrysides of grazing pastures and see the downtowns of proud, rural communities. Many of these were established the mid-to-late 1800s, at the same time Hill County was founded and named after George W. Hill, a settler who served as a congressman and the secretary of war for the Republic of Texas.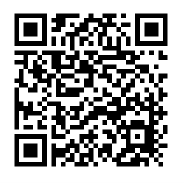 Cyclists can visit http://waggintrailbikeride.com to view course routes and event details. By visiting our Active listing at http://www.active.com/hillsboro-tx/cycling/races/waggin-trail-bikeride-2015 , participants can choose their bike ride route and register in advance. Or, scan the QR code at the top of this release to be directed to the mobile version of this registration site. Participants may also register on the day of the event at 7:30 am, May 2, at building #70 on the Hill College Campus, located at 112 Lamar Drive in Hillsboro. Scan QR Code From PC or Tap QR Code From Mobile.
About Hill County Paw Pals
Hill County Paw Pals, a non-profit 501(c)(3) tax exempt corporation, is a grassroots group that organized with two stated goals: 1) Facilitate installation of a county animal control program and promote and contribute to building a county animal shelter. 2) Organize to challenge the overpopulation of unwanted companion animals (dog and cats) with four programs working simultaneously–Education, Legislation, Spay/Neuter, and Adoption (Project ELSA). The serious issues with pet overpopulation is that it burdens our communities and citizens with health, economic, legal, and safety liabilities. With the input of proactive programs pet overpopulation is solvable. Call (254) 580-0679 or visit http://www.hcpawpals.org to learn more.
About Hillsboro
Hillsboro, the county seat of Hill County, is nestled in the rich farmland of Central Texas on Interstate-35. Hillsboro is conveniently located 50 miles southeast of Fort Worth and 55 miles southwest of Dallas, and less than 30 miles north of Waco. With its own outlet mall, restaurants of every genre, a reputation as a year round sporting events and camps site, a thriving, historic downtown and more than 500 quality hotel rooms, Hillsboro is a destination location that will make you want to stop, shop, stay and see more. Benefiting from its neighbors, Hillsboro is an hour's drive away from nationally recognized zoos, museums and boasts three presidential libraries within a two hour
drive. At the turn of the 20th Century, Hill County was the second largest cotton producer in the nation, so its residents proudly celebrate their roots in agriculture, holding the "Hillsboro Cotton Pickin' Fair" every year during the last weekend in September. Visit the Hillsboro Chamber of Commerce website http://hillsborochamber.org/ to learn more.