FOR IMMEDIATE RELEASE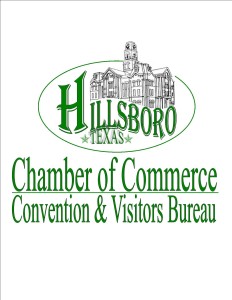 Media Contact:
Megan Fleetwood-Boyd
W (254) 772-5909
C (817) 845-2055
megan@ehandersonpr.com

Central and North Texas Job Fair to Attract 10 – 20 Hiring Companies, and Between 150 – 250 Attendees Expected:
English/Spanish Translators Available at Event
HILLSBORO, Texas (July 28, 2015) — Today, the Hillsboro Chamber of Commerce announced a job fair, targeting companies and job applicants across Central Texas. Registered companies have jobs available for Spanish-speaking attendees, and English/Spanish translators will be on-site. This job fair will be held at Hillsboro's Historic City Hall at 211 West Franklin Street from 10:00 a.m. until 2:00 p.m. on Saturday, August 15.
Chamber Director Vicki Hidde said 10 businesses are registered as of July 27. She explained booths are $350 to reserve and invited companies from all over Central and North Texas to sign up by calling (254) 582-2481. There is no cost to job seekers who want to attend, and no RSVP is needed.
What's different about this job fair?
Advice available in English or Spanish on best practices for getting and keeping the job applicants want.
Aimed at serving not only the unemployed, but the underemployed.
"We are trying to breathe hope back into the segment of the population which is made up of discouraged workers, to show them there are opportunities in Central Texas," said Vicki Hidde, Hillsboro Chamber of Commerce president.
"Our goal is to connect the very best employers with the wealth of talented individuals who live or want to live in the Greater Hillsboro area, in Central or North Texas," said Hidde. "As a weekly average, I have at least one employer tell me they need employees, and at least one individual stop by the chamber asking where they can find a job. We decided to bring them together at this event."
As of July 27, an estimated 150-250 job seekers of all ages were expected to attend. Hill College has RSVPed on behalf of several students, and other area colleges have been invited. As of July 27, companies and organizations participating include City of Hillsboro, Gates Precast Concrete, Hill College and Wisenbaker Builder Services.
Hidde said she plans to make this job fair different from other in Central Texas by not only targeting services for the unemployed but the underemployed. In addition, this event will be expand upon the traditional job fair concept, by also offering career consulting. Hidde plans to use her three decades of experience as owner of a chain of resume writing offices and as divisional director for Career Pro, a national resume-writing chain, where she supervised 125 offices, to help individuals who attend the job fair. She will offer a free career and resume evaluation. Kristie Story, MA, LPC will also be available discuss fast-track job search strategies and career-related issues at the event.
"I hope that my time in the field of assessing talent and career fits can serve as a tool to create added value for people who take time to attend the August 15 job fair," said Hidde. "When the unemployed and underemployed see me on the street, they are wanting to know dates and times.  Employers are asking for more information. I am expecting a good turnout of candidates and employers."
2014 Statistics from the U.S. Department of Labor show 49 percent of college graduates and 14.7 percent of all workers are underemployed. Underemployed professionals are those who are working at a job with a lower skill-level and/or salary than their experience and/or education warrants. In June 2015, an estimated 653 thousand workers said they were discouraged and have given up looking for jobs, because they no longer believe there are openings available to them.
"We are trying to breathe hope back into the segment of the population which is made up of discouraged workers, to show them there are opportunities in Central Texas," said Hidde. "We will have experts present to speak to individuals in English or Spanish, offering advice about best practices for getting and keeping the job they want."
The Hillsboro Chamber of Commerce invites media members to help get the word out about the August 15 job fair ahead of time and welcomes coverage before, at and after the event. The media contact, Megan Fleetwood-Boyd, will coordinate access to interviews and b-roll/photo requests. Job seekers planning to attend the event will also be available for interviews starting July 28 through the event, and afterwards.
About Hillsboro
Hillsboro, the county seat of Hill County, is nestled in the rich farmland of Central Texas on Interstate-35. Hillsboro is conveniently located 50 miles southeast of Fort Worth, 55 miles southwest of Dallas and less than 30 miles north of Waco. With its own outlet mall, restaurants of every genre, a reputation as a year round sporting events and camps site, a thriving, historic downtown and more than 500 quality hotel rooms, Hillsboro is a destination location that will make you want to stop, shop, stay and see more. Benefiting from its neighbors, Hillsboro is an hour's drive away from nationally recognized zoos, museums and three presidential libraries within a two-hour drive. The Greater Hillsboro Area is a hub of job creation and has employment opportunities for almost every field. Visit the Hillsboro Chamber of Commerce website http://hillsborochamber.org/ to learn more.
###