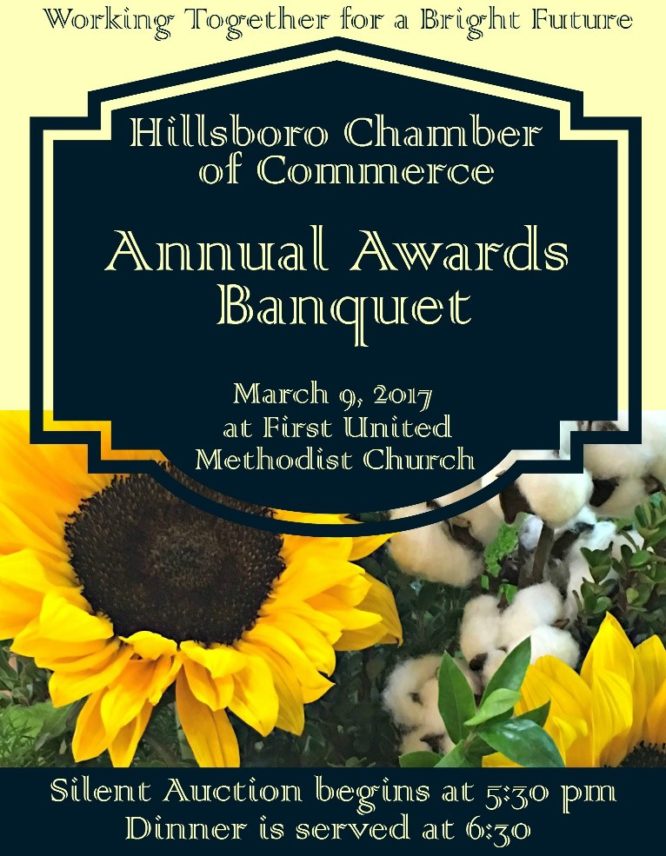 There is a new twist this year…
The Hillsboro Chamber of Commerce is offering you the opportunity to advertise your business at the Chamber's Awards Banquet. By decorating a table within the theme "Working Together for a Bright Future" and adding your business' logo, you can get great advertising! Those attending will not be seated at the table decorated by their business. Instead, they will be seated at a table with another business' advertising. That way, you're actually advertising! There will be a small fee of $50 to decorate the table, and you'll need to bring your own supplies to decorate.
If you do not purchase a table and want to decorate a table the cost is $100.
Regular Table: $350
Premium Table: $550
Individual Tickets: $45
We need your nominations for:
Hall of Fame
Regional/National Business of the Year
Local Business of the Year
Citizen of the Year
Make nominations for Hall of Fame, Regional Business of the Year, Local Business of the Year, and Citizen of the Year. Click Here for the nomination forms.