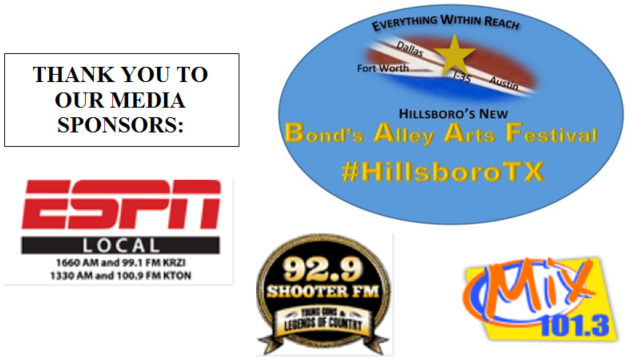 Hillsboro is rejuvenating its juried art festival – Hillsboro's Bonds Alley. This event ran consecutively from 1964-2005 and drew artists, musicians and visitors to Hillsboro from as far as Houston, Dallas, Austin and even out-of-state. Now it's back, and the 2015 Bond Alley event will be a chance for artists and performers of all kinds to show off their work. The whole family can enjoy food, games and live music. We are expecting painters, sculptors, crafters, photographers, dancers, acrobats and more. Media members are welcome to get interviews, take b-roll and photos.
WHEN:
Friday, June 5
Art Display: 12:00 p.m. – 7:00 p.m.
Live Music Concert: Contemporary Rock, Classic Rock and Blues:
8:00 – 10:00 pm..
Saturday, June 6
Art Display: 10:00 a.m. – 6:00 p.m.
Live Music All Day: Texas Country 
WHERE:
Good GPS address: B.Bond Pharmacy, 60 W Elm St, Hillsboro, TX 76645
The festival will stretch along Bonds Alley, Gould Street, Covington Street and Elm Street. Parking is free.
DESTINATION WEEKEND IN HILLSBORO:
Farmers Market: Saturday, June 6, 8:00 a.m. – 1:00 p.m. located at the Hill County Courthouse Square
Texas Pirate Festival: Saturday, June 6, 11:00 a.m. – 7:00 p.m., Sunday, June 7, 11:00 m. – 6:00 p.m. located at 8581 TX-171, Hillsboro, TX 76645
FOR MORE INFO: