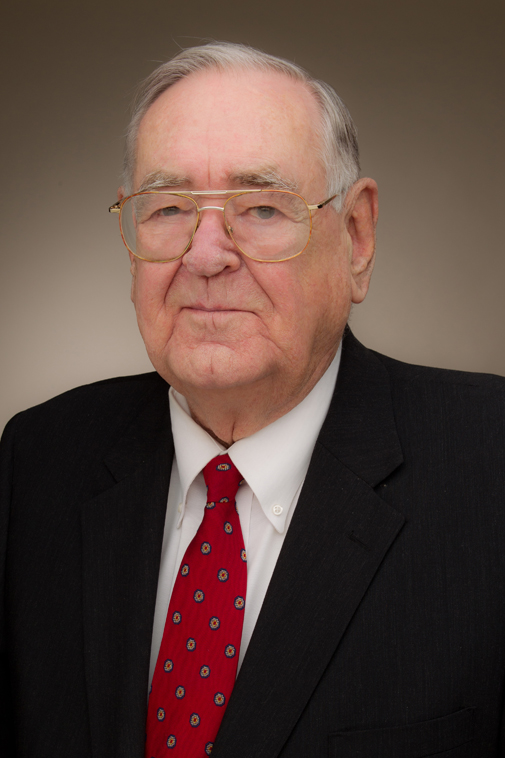 Bill Siddons, Jr. is the 2016 Hall of Fame Inductee and will be recognized at the 94th Chamber of Commerce Awards Banquet on March 3, 2016 at the First United Methodist Church.  He is President of Hill County Insurance and he is celebrating 60 years of service with the company.
He is a Citizens National Bank Director and he is past president of the Colonial Trust Company where he served for 49 years.  He has distinguished himself as a community leader and has served as president of the Hillsboro JCs, Hillsboro Chamber of Commerce, Rotary Club, and Lake Park Association which later became Wallace Park.
His life is laced with humility and service.  He is a Rotary Paul Harris Fellow and was inducted into the Rotary District Roll of Fame in 1992 for years of service to Rotary and the community.
He is credited with serving on numerous boards and commission that improved the quality of life for Hill County residents.  He was on the team of local leaders who lobbied Washington to create the Aquila Lake which now provides safe and reliable water to our community.  He served on the committee that moved and renovated the Katy Depot which is now the Chamber Office.
"Big Bill" as he is lovingly known by his friends and family was on the original Main Street Board.   For years he led a group of local merchants to solicit funds to buy projects at the Hill County Fair.   Bill sets an example that other business leaders model and are following to enhance the lives of youth in the area.   His bank and staff coordinated funds and conducted donor relations to re-build the Courthouse after the devastating fire in 1993.
Regional/National Business of the Year: Wisenbaker Building Services
Wisenbaker Builders Services is our Big Business of the Year.  Dwayne Lusk serves on the Chamber Board and encourages his employees to serve on chamber committees and community boards.  He was one of the diving forces in the Chambers first Job Fair in 2015.
Local Business of the Year: Young's Animal Hospital
Dr. Roy Young, D.V.M. with Young's Animal Hospital is our Small Business of the Year.   Members of his staff serve as ambassadors and support chamber projects with their time, resources and gifts.
Citizen of the Year: James M. Earhart, MD
The 2016 Citizen of the Year is James Malcolm Earhart, M.D., D.A.B.F.P. Family Diagnostic Medical Center.  He tirelessly promotes health in Hill County and led the efforts to open a Mission Clinic in Hillsboro.
We will also Honor our Ambassador of the Year: Karen Doskocil
Karen Doskocil is Volunteer of the Year.  Karen serves tirelessly not only as a Chamber Ambassador, Tourism Board member, but is a trusted advisor and active volunteer with the Boys and Girls Club, Heritage League.  She promotes Hillsboro at every occasion.
President Awards: 
Distinguished Manufacturer 2016 – Gate Precast Company
Texas Heritage Museum – Must See in Hillsboro Award
Distinguished Downtown Business- Frenkie's Italian Restaurant
Family Business of the Year – Gene's Auto Service
You will receive a Wednesday Times, Thursday Times and Friday Times this week.
We are still accepting donations and reservations.
Celebrating all that is good in Hillsboro !
Vicki Hidde